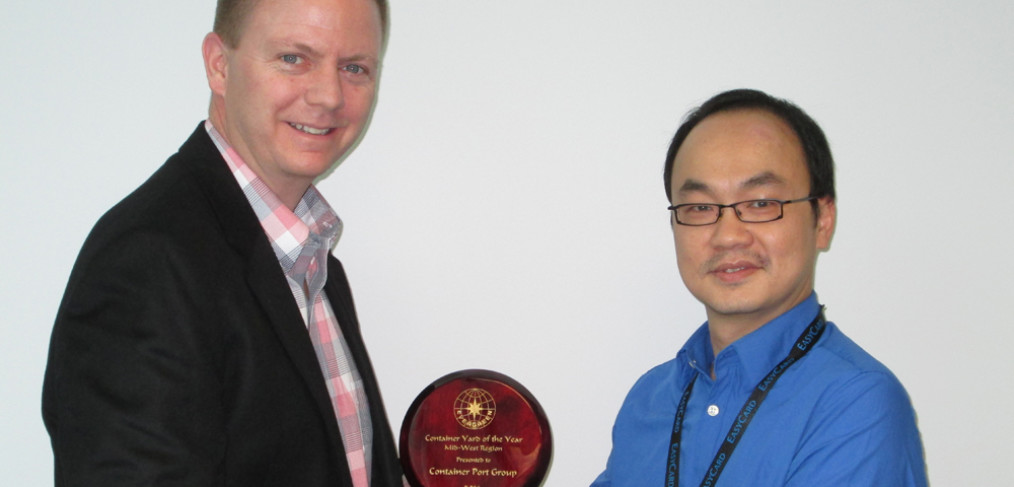 COLUMBUS, OH (May 22, 2015) – ContainerPort Group has been awarded the Container Yard of the Year Award from Evergreen Shipping for their efforts throughout the past year.
"Evergreen Shipping Agency Corporation places great emphasis on providing high-quality service," says President Roy Amalfitano. "Our goal is to satisfy our customers by meeting and exceeding their expectations and keeping them competitive in global trade. This philosophy is one of the keys to our success. We depend on [CPG] to play a significant role in helping us to achieve this goal."
"It is an absolute honor to win this award," says CPG Senior Vice President, Commercial, Jim Kramer. "We look to increase our world-class offerings with our valued partner, Evergreen Shipping, throughout our strategic best-in-class network."
For more information, visit www.containerport.com 
About ContainerPort Group
ContainerPort Group, Inc. headquartered in Cleveland, Ohio, is a leading provider of services to the container shipping industry and is celebrating its 44th year of operation. CPG provides both motor carrier services and terminal services (depot, CY, equipment maintenance, rail ramp operations) to shipping lines, railroads, shippers/receivers, and freight intermediaries with concentration on international cargoes. CPG operates facilities and terminals in 17 distinct geographic markets throughout the Midwest, Ohio Valley, Northeast and Southeast regions.
For more information, visit www.containerport.com
Contact
ContainerPort Group, Inc.
James R. Kramer
Senior Vice President, Commercial
440.895.8145
About Evergreen Shipping
Evergreen Shipping Agency (America) Corp. is North America General Agent for three of the world's leading ocean carriers Evergreen Marine, Italia Marittima, Hatsu Marine. Serving the international ocean logistics needs of U.S. importers and exporters since 1974, providing customer service, sales, marketing, logistics and administrative support.
For more information, visit www.evergreen-shipping.us
###