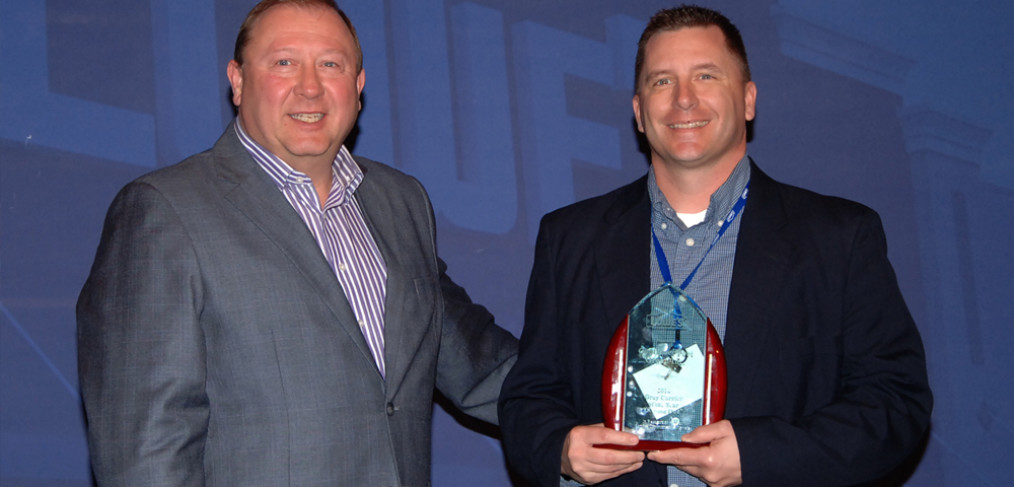 CLEVELAND, OH (June 4, 2015) – ContainerPort Group has been awarded two distinctive awards by Lowe's Companies, Inc. for best-in-class service:
2014 Dray Carrier of the Year – Region One (in recognition of CPG's service commitment to Lowe's)
2014 100% On-Time Service Platinum Carrier Award (for consistently providing Lowe's with the highest level of delivered service)
Each year Lowe's Home Improvement recognizes excellent service amongst their vast network of supply chain partners during the annual Global Carrier conference and awards ceremony. It is notable that, as one of Lowe's newer vendors, CPG has exceeded expectations exponentially and surpassed the competition – both key factors in receiving both designations.
Lowe's is the second largest home improvement retailer in the world with company revenues totaling $56.2 billion in 2014. With 1,840 home improvement stores in the United States, Canada, and Mexico and an extensive supply chain network of more than 30 distribution centers, best-in-class partners are an essential part of the supply chain solution to ensure consistency and efficiency. ContainerPort Group is proud to support Lowe's Home Improvement as a customer and is committed to providing world-class service for years to come.
For more information, visit www.containerport.com
About ContainerPort Group
ContainerPort Group, Inc. headquartered in Cleveland, Ohio, is a leading provider of services to the container shipping industry and is celebrating its 44th year of operation. CPG provides both motor carrier services and terminal services (depot, CY, equipment maintenance, rail ramp operations) to shipping lines, railroads, shippers/receivers, and freight intermediaries with concentration on international cargoes. CPG operates facilities and terminals in 17 distinct geographic markets throughout the Midwest, Ohio Valley, Northeast and Southeast regions.
For more information, visit www.containerport.com.
Contact
ContainerPort Group, Inc.
James R. Kramer
Senior Vice President, Commercial
440.895.8145
About Lowe's
Lowe's Companies, Inc. (NYSE: LOW) is a FORTUNE® 100 home improvement company serving approximately 16 million customers a week in the United States, Canada and Mexico through its stores and online at lowes.com, lowes.ca and lowes.com.mx.  With fiscal year 2014 sales of $56.2 billion, Lowe's has 1,840 home improvement and hardware stores and more than 265,000 employees.  Founded in 1946 and based in Mooresville, N.C., Lowe's supports the communities it serves through programs that focus on K-12 public education and community improvement projects.
For more information, visit www.lowes.com.
###