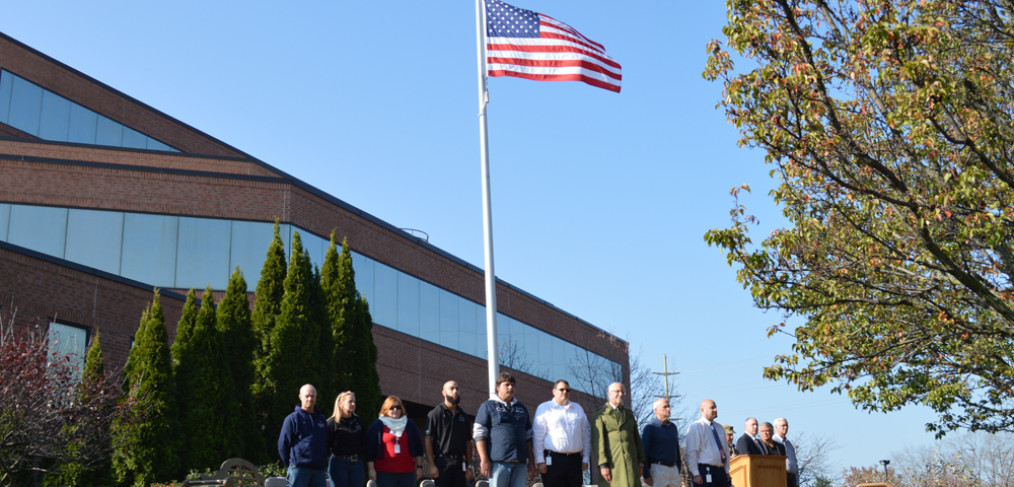 Local Veterans Honored by International Logistics Company, World Shipping, Inc.
CLEVELAND, OH (November 11th, 2015) – World Shipping, Inc. honored local veterans during a ceremony and celebration on Wednesday, November 11th, 2015 at 11:00am. U.S Air Force veteran, Chris Castell, presented World Shipping, Inc. with the U.S flag he earned while serving oversees as Director of Supply Chain, Logistics & Operations. Castell served in the U.S Air Force for over 15 years before entering into a successful career in supply chain management and logistics, as a civilian. Castell now works for the Rocky River-based company as Director of Operations, North America at NewPort Tank Containers (A World Group Company).
"I am so proud to work for a company that is passionate about recognizing employees that have honorably served our country. Not all employers take the time to celebrate their teams. The fact that the World Shipping, Inc. does take the time to acknowledge our employee milestones, shows that we are a company that operates with integrity."
John Hunger, Chief Financial Officer & Treasurer for World Shipping, Inc. emphasized the importance of taking the time to honor employee veterans; "We as a company believe in the importance of showcasing the achievements of our employees. One of the greatest achievements that we've been able to identify, are the 27 individuals within our organization that are United States Veterans. These men and women have stood up for our country and have allowed us to enjoy the freedoms that we have today. The very minimum of what we can do is recognize them for their service."
The veterans honored during the ceremony included:
Russ Graef, ContainerPort Group, President
Stephen Peters, ContainerPort Group, Recruiting Coordinator
Randy Ross, ContainerPort Group, Network Engineer
Fabian Negron, NewPort Tank Container, Customer Service Representative
Scott Globokar, ContainerPort Group, Inspector
Betty Knight, NewPort Tank Container, Customer Service Representative
Robin Nelsen, UWL, Customer Service Representative
Not in attendance:
Shane Stoneburner, World Distribution Service, Supervisor
David Hertvik, UWL, Vice President, Finance
The timing of the ceremony was significant, as it represented the historical events that transpired causing Veterans Day to come into existence on the eleventh hour, of the eleventh day, of the month of 1918. Each employee veteran was given a Veterans Day pin so they could be visibly recognized for their dedication to their country and their company. Following the ceremony complimentary refreshments from The Manna food truck were provided for employees to enjoy.
About World Shipping, Inc.
Since 1960, World Shipping has been active in serving shippers and receivers of international cargo operating in multiple segments, including vessel agency operations, freight forwarding, ocean freight, trucking, rail operations, warehousing and distribution, bulk liquid international logistics, and customs clearance. Headquartered in Cleveland, OH, The World Group companies include World Shipping, Inc., ContainerPort Group, UWL, World Distribution Services, and NewPort Tank Containers.
For more information, please visit www.worldshipping.com.
###