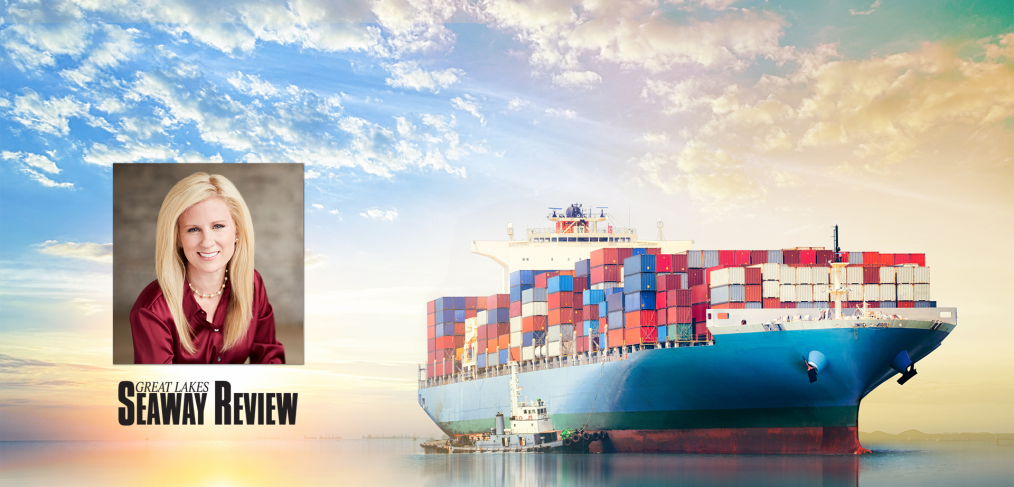 The First and Last Mile: Jackie Csiszar Featured in Great Lakes Seaway Review
THE FIRST AND LAST MILE
Nurturing partnerships and system growth through innovation
Dennis "Doc" Mahoney retired from his position as Vice President, Operations after 24 years of service with World Shipping last year, which leaves me with some very large sails to fill. Thankfully his unique ability to find creative solutions and his dedication to the shipping industry were something he passed along to me since taking the helm in 2017. I am thrilled to lead the next generation of innovation and to continue World Shipping's contribution to the Great Lakes ports and the maritime industry.
The beginning of the World Shipping voyage started in 1960, when the St. Lawrence Seaway opened and our founder, Jack E. Hunger, recognized the need for vessel operations. We quickly grew into the leading vessel husbandry company in the Great Lakes shipping industry. Jack's innovation and success stemmed from a dedication to superior customer service, and we continue that legacy today by creating customer-based solutions. We continue to understand the importance of that first and last mile. We are continually improving efficiencies for our customers around the Great Lakes by having a one-stop-shop with our company.
Connecting the supply chain.
World Shipping's advantage in the logistics market stems from the ability to coordinate and connect its subsidiary companies, each of which specializes in aspects of the supply chain. Many people—upon hearing 'logistics'—think the implications of what we do starts and stops with transportation. While that is certainly a part of it, there are many different aspects to this industry.
Continual improvements.
One of World Shipping's newest examples of innovating the last mile is done by partnering with our sister company, UWL, LLC an asset-based global forwarder. UWL created efficiencies for our customers by coordinating the customs brokerage services for us. A customs house broker (CHB) is a critical service provided by logistics companies to ensure that import cargo is correctly cleared with U.S. customs. They are licensed by the U.S. Treasury Department after passing a rigorous written examination and an extensive background investigation. This is a service we couldn't have provided on our own, but could easily add through the expertise of UWL.
Today, UWL is no longer just clearing traditional containerized imports and air-freight, but are now clearing the international bulk vessels coming into the Great Lakes. This type of service takes on a whole new level for their brokerage team and opens a new opportunity previously not being explored. Our big advantage is that we work seamlessly internally, we know the exact movement of the vessels and our customs brokerage team is just down the hall from my team, so we all work in unison. Most importantly, keeping it all in one company makes efficiencies for us and for our customers.
Adding CHB as a service takes us from the first mile to the last mile and gets product closer to its destination. The shipowners get an agent, broker and logistics company in one. They can then pass that convenience onto their customers, as well. It's a win for everyone. It is this type of innovation, stemming from providing better service for our customers, that I hope to initiate and encourage as I lead this next generation for World Shipping, Inc. It is important to me that I continue to represent the values of our founder, the culture of my predecessor and, as a result, continue to help make the Great Lakes a mainstay of the global economy.  ■
Jackie Csiszar is the Director of Vessel Operations for World Shipping, Inc. headquartered in Cleveland, Ohio. World Shipping, Inc., a World Group Company, is the Maritime Concierge for Canadian and U.S. Great Lakes ports. The World Group includes World Shipping, Inc., ContainerPort Group, UWL, LLC and World Distribution Services.
GREAT LAKES/SEAWAY REVIEW  January-March, 2018
Special thanks to Harbor House and the Great Lakes Seaway Review for featuring our article!
Click here to view the full publication.