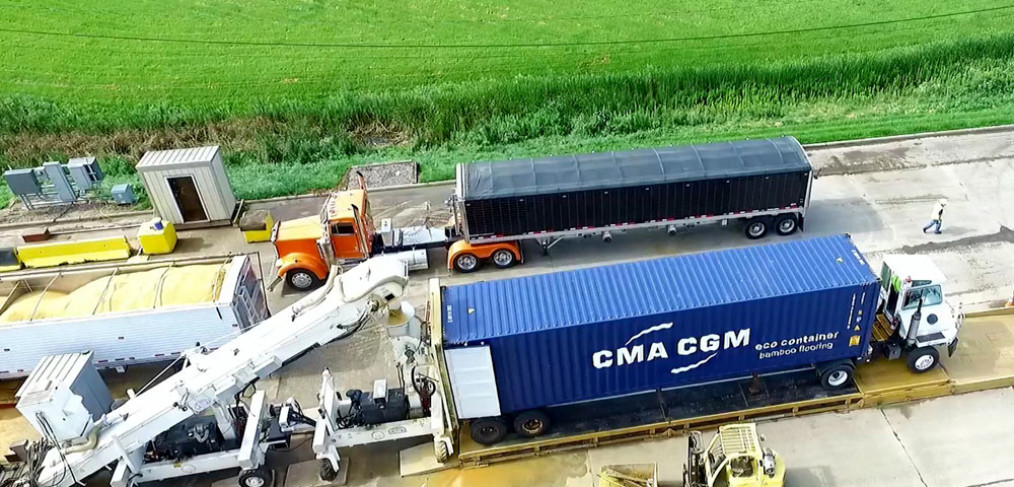 WDS Significantly Expands Capacity at State-of-the-Art Container Transloading Facility
World Distribution Services announces that they have more than doubled their agricultural commodity transload capacity through the addition of a second high speed conveyor system at their state-of-the-art Container Transload Facility (CTF) in Columbus, Ohio. This facility utilizes a wide range of services offered by The World Group of Companies. Services include:
Bulk Transloading Services: Bulk Hopper Trucks & Rail Cars
Bulk Agriculture Trucking
Drayage & Regional Trucking in Support of CTF Activity
Exclusive On-Site Intermodal Rail Service in conjunction with Norfolk Southern
Maximum Cargo Weight Loading Opportunities – Up to 58,000 Pounds (26 Tons) per 40′ Container
Full SOLAS Compliance at No Additional Cost
IPI & OCP Service Options
48-hour Rail Service to on Dock Port of Norfolk Via Norfolk Southern
Rail Service to U.S. East & West Coast Ports as well as Canadian Ports
On-Site USDA & FGIS Inspection Services
On-Site Empty Container Storage for Containers Being Transloaded at CTF
On-Site Container Repair Services for Containers Being Transloaded at CTF
Overweight & Out-of-Gauge Transload Services
Blocking & Bracing
Transload & Storage of a Wide Range of Commodities Including Steel, Lumber, Machinery, Equipment Project Cargo & More
On-Site Customer Service Department to Coordinate All Shipments
Full-Service Production Reporting
"The benefit for customers," says Jackie Csiszar, Director, Business Development, "is that we streamline the process. Now agricultural goods, steel and other Midwestern commodities can be easily moved between points in the United States and points around the world in one simplified step. The location is extremely convenient for customers – particularly in the Midwest."
This world-class facility acts as a hub for intermodal services – connecting Columbus to the Port of Norfolk and other USEC, USWC and Canadian Ports via a private, on-site intermodal rail operation featuring 48-hour transit time to on-dock Norfolk.
"Our all-inclusive pricing model puts the shippers' priorities first. We are able to reduce costs by leveraging our ample supply of on-site empty intermodal containers with our cost effective transload services and our exclusive on-site rail intermodal operation that virtually eliminates all container drayage cost.
This transload service – coupled with competitive rail rates from Columbus to on-dock Norfolk rail operations for export moves and our close partnership with the Port of Norfolk – allows us to provide a world-class experience that is second to none," explains Csiszar. "Additionally, all of these cost savings created by our integrated system go back to the customer's bottom line. We take pride in finding new solutions in response to internal and external challenges – CTF provides a solution to streamline the process and ensure our customers' ROI is optimized."
CTF service is available immediately. Business inquiries may be directed to Jackie Csiszar at csiszarj@www.worldshipping.com or +1-440-895-8296.                                                                         
ABOUT WORLD DISTRIBUTION SERVICES
World Distribution Services (WDS) is a leading provider of creative domestic and global supply chain solutions, specializing in warehousing and logistics. WDS possesses the facilities, network, equipment, expertise and, most importantly, a team of professional, talented staff whose mission is to exceed customers' expectations.
WDS offers 11 strategic warehousing locations across the United States including most major East Coast, Gulf and West Coast port locations. The company also operates seven intermodal Class I rail facilities in the US Midwest & the Columbus, OH in addition to its private intermodal rail facility at the CTF in Columbus, OH.
WDS, headquartered in Cleveland, OH, is a division of World Shipping, Inc., leveraging over 55 years of collective experience in providing cargo transportation services across the globe.
Learn more at www.worldds.net including a short video on our CTF operation that can be found under the Locations tab at Columbus – CTF.